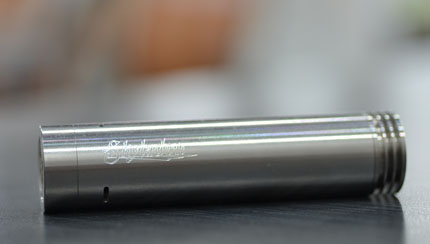 Skyladon
510 Spring Loaded Connector
All Stainless Steel Construction
Magnetic Fire Button
Hybrid Adaptor
Product Introduction
The Skyladon is a mechanical mod made of stainless steel and can be compatible with 18650 battery. Its highlights lie in two parts: the spring loaded connector in top cover and the magnetic fire button on bottom, which makes the device more durable and adaptable. More ever, unique grids design of the top cover is made to improve heat dispersion during vaping.



Parameter
Diameter: 22mm

Length: 93.4mm

Color: silver

Battery type:18650

Standard Configuration
1*Top Cover

1*Battery Tube

1*Bottom Cover

1*Fire Button

1*Hybrid Adaptor (Spare part for top cover)


How to Assemble Fire Button Components:
1.Put magnet ring into the corresponding ring groove in Part 1 and Part 2.
2.Have a check to make sure they repel each other
3.Put Part 2 into battery tube as the picture shows
4.Put Part 1 into bottom cover as the picture shows
5.Screw bottom cover with battery tube


Features
All Stainless Steel Construction:
As a mechanical mod, Skyladon is made of all stainless steel in order to provide a most durable device for users.
510 Spring Loaded Connector:
The top cover of Skyladon features a spring connetor which will increase the durability and adaptability of device.
Magnetic Fire Button:
Like poles repel, the fire button is designed according to this theory instead of using spring. It greatly reduces the potential safety hazard and also extends the service life of the button.
Hybrid Adaptor:
A spare part for top cover. People can adjust the length of MOD by replacing the adaptor with top cover at ease.