Tobhino BF RDA
Product Introduction
The Tobhino BF RDA, a high-end bottom-fed rebuildable drip atomizer, impresses us with its unique airflow design and detachable structure. Not only does the RDA comes with 510 top cap, it also provides you with spare 810 top cap, offering you more possibilities. Moreover, the optional black and PEI atomizer tubes will also be a big plus to the elegant yet flavorful RDA.
Parameter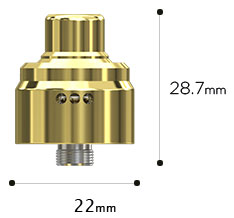 Tobhino BF RDA
Height: 28.7mm
Diameter: 22mm
Weight: 18.9g

Decorative ring
Height: 5.4mm
Diameter: 25mm
Detachable Structure for Easy Cleaning
All parts of Tobhino BF RDA can be detached and reassembled, much convenient to clean it.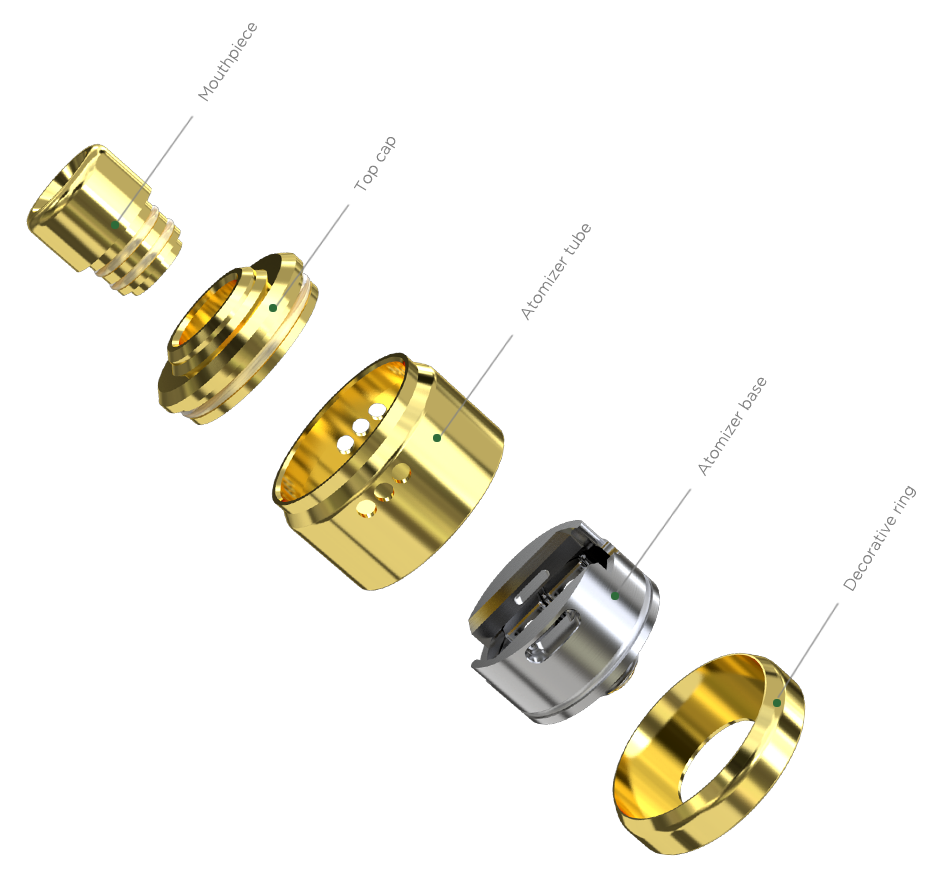 Optional Atomizer Tubes for Your Choice
The equipped gold atomizer tube with vacuum plating is corrosion resistant and elegant. And the spare black Damascus pattern and PEI tubes will offer you great visual enjoyment.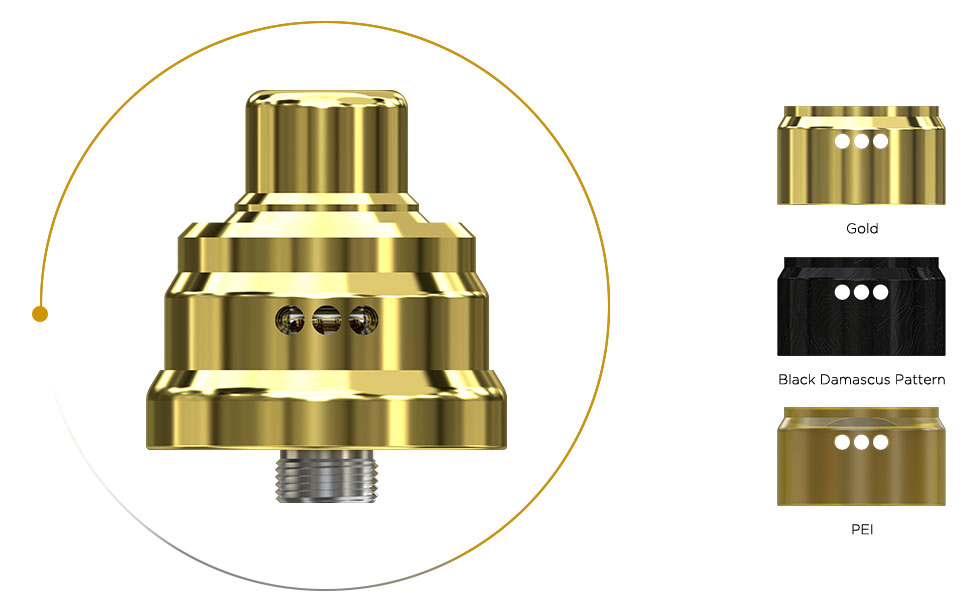 Offering Two Drip Tips
In addition to the original gold 510 drip tip, the spare black mouthpiece provides you more choices.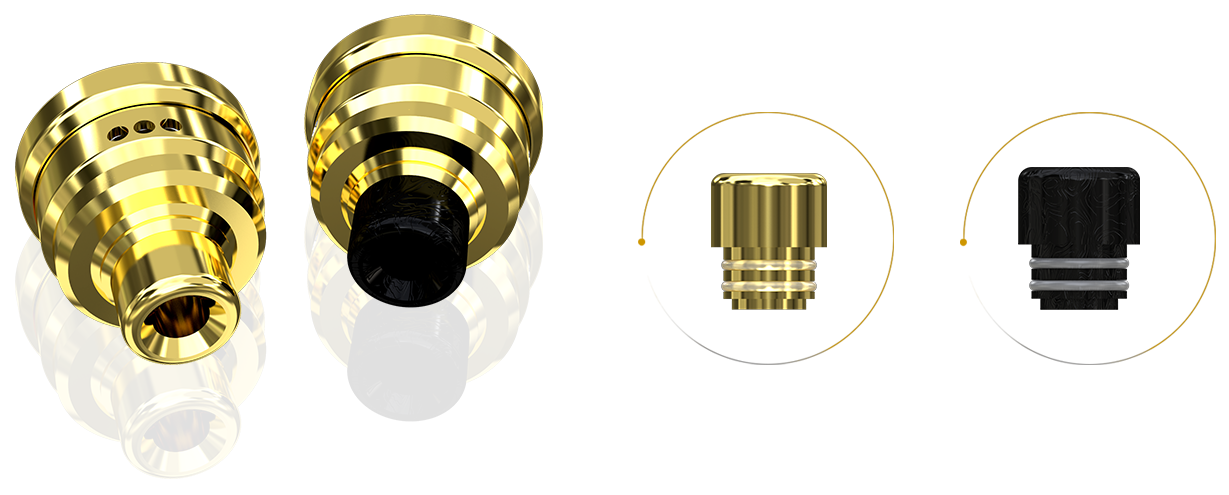 Optional Top Cap
Apart from the equipped 510 top cap, the optional 810 top cap can adapt larger drip tip, offering more possibilities.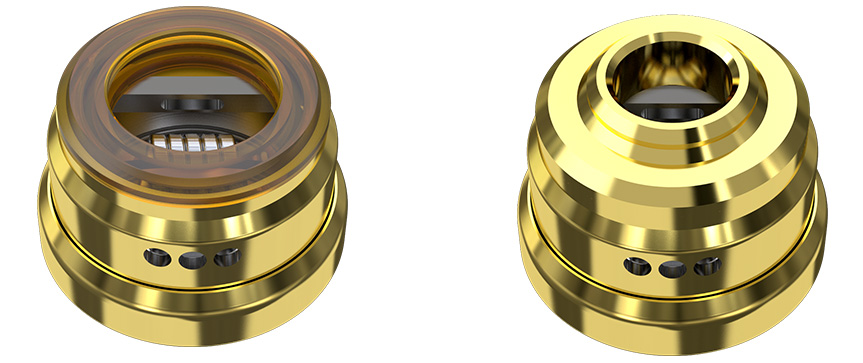 Rebuildable Clapton Coil and Open Build Space for DIY Fun
The premade Clapton 0.18ohm coil is mean to offer you large vapor and great flavor. Moreover, with an open build space in Tobhino BF RDA, you can easily install the coil and enjoy the DIY fun to the fullest.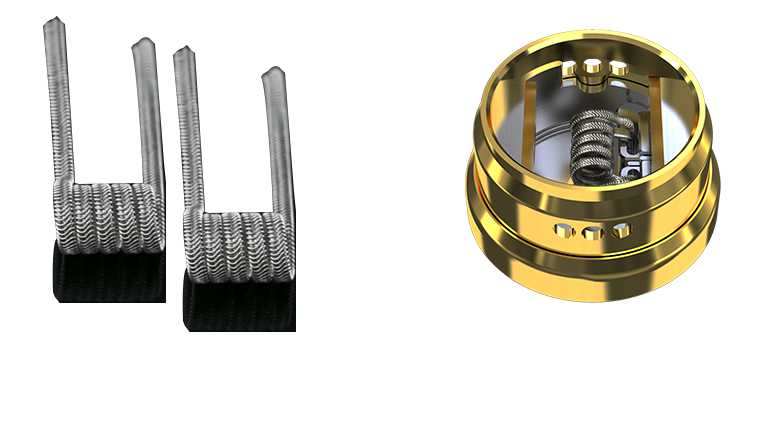 Convenient Airflow Control
By rotating the atomizer tube clockwise or counterclockwise, you can adjust the airflow and get different vaping experiences.
1 * Tobhino BF RDA
1 * Mouthpiece
1 * User Manual
2 * Clapton Coil
2 * Atomizer Tube
Spare Parts
1 * Cotton
1 * 810 Top Cap